Chainbeat Newsletter: Brave & BAT
12/11/2019
Welcome to the newsletter from the Chainbeat team. The web 3.0 ecosystem is growing rapidly. Our goal with this newsletter is to provide insights and highlights on new and interesting projects that are building the decentralized future of tomorrow.

Chainbeat Links: Chainbeat | Sign up | Newsletter Sign up | Chainbeat Blog
This week's featured web 3.0 project: Brave & the Basic Attention Token(BAT)
Brave is a web browser founded by Brendan Eich, the creator of Javascript and founder of Firefox Browser. Brave comes with a built-in ad-blocker and its a lot faster than Chrome & Safari in both mobile and desktop environments. Unlike Brave, other browsers load ads that can potentially add up to 5 seconds of mobile load time.

In Brave, all adverts and trackers on a website are blocked and users are alternatively given the option of opting into the Brave Rewards program. The Brave Rewards program rewards users with Brave Attention Tokens (BAT) for viewing non-intrusive ads. The brave browser anonymously monitors user's attention, and users are rewarded with BATs for their attention. Since users are opting in to view ads and are incentivized for their attention this creates a new ecosystem that enables advertisers to achieve improved ROI, better targeting and reduced fraud.

Here is a graphic that illustrates the lifecycle of BAT: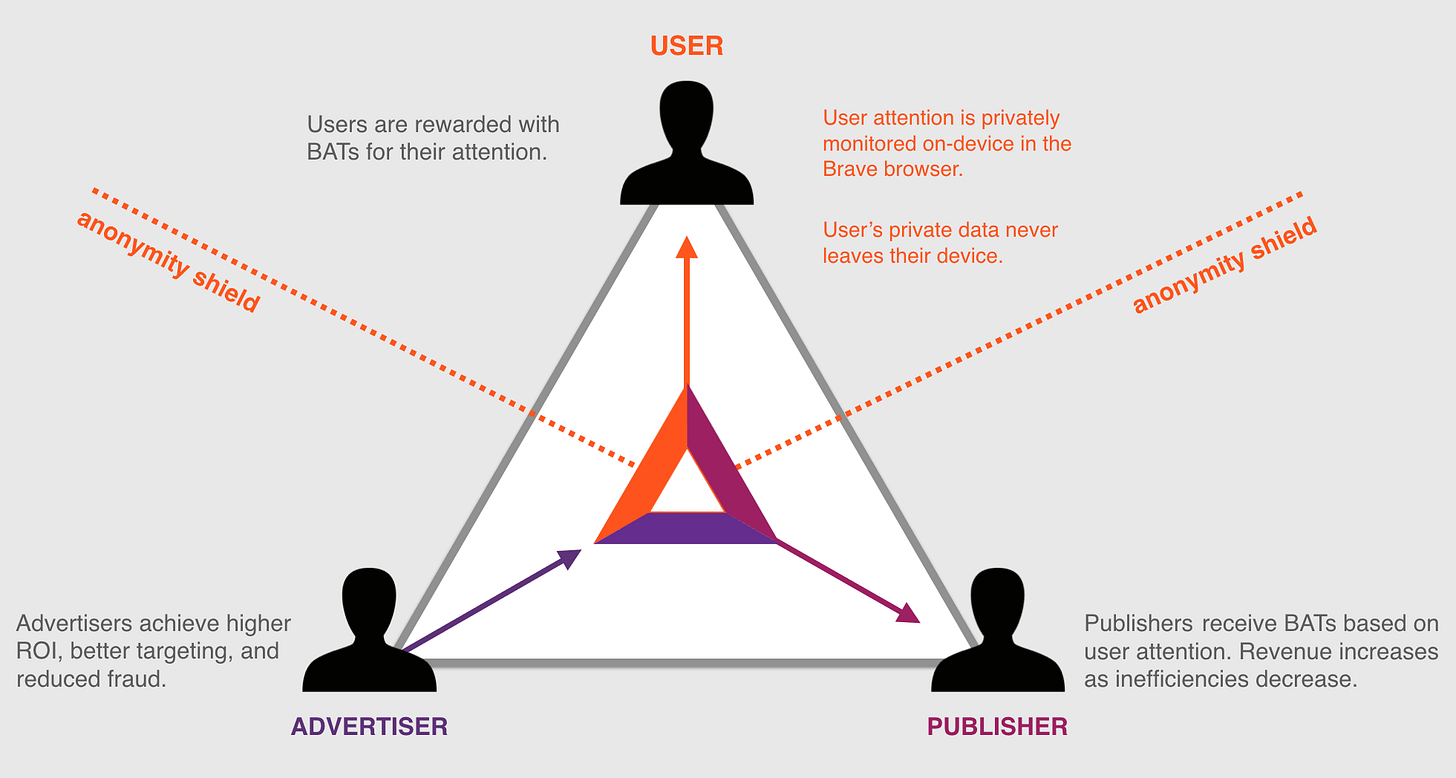 Publishers receive BATs based on the user's attention, and the revenue of advertisers increases as inefficiencies decreases. Here is Brendan Eich explaining why he created Brave and the purpose of BAT:
Data Insights
A chart from Brave showing the staggering active user growth of Brave since launch last year: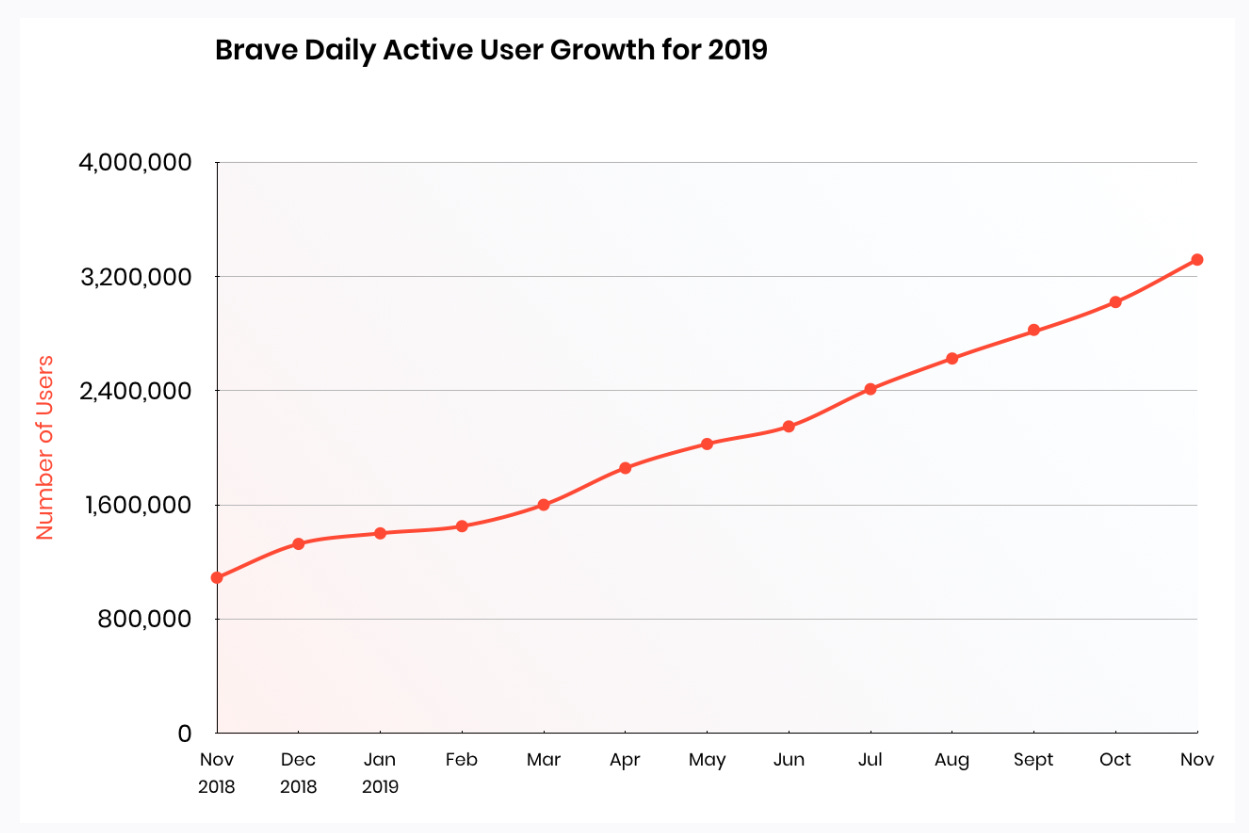 Chainbeat Dashboard for Basic Attention Token depicting user engagement and token volumes across the board for this year.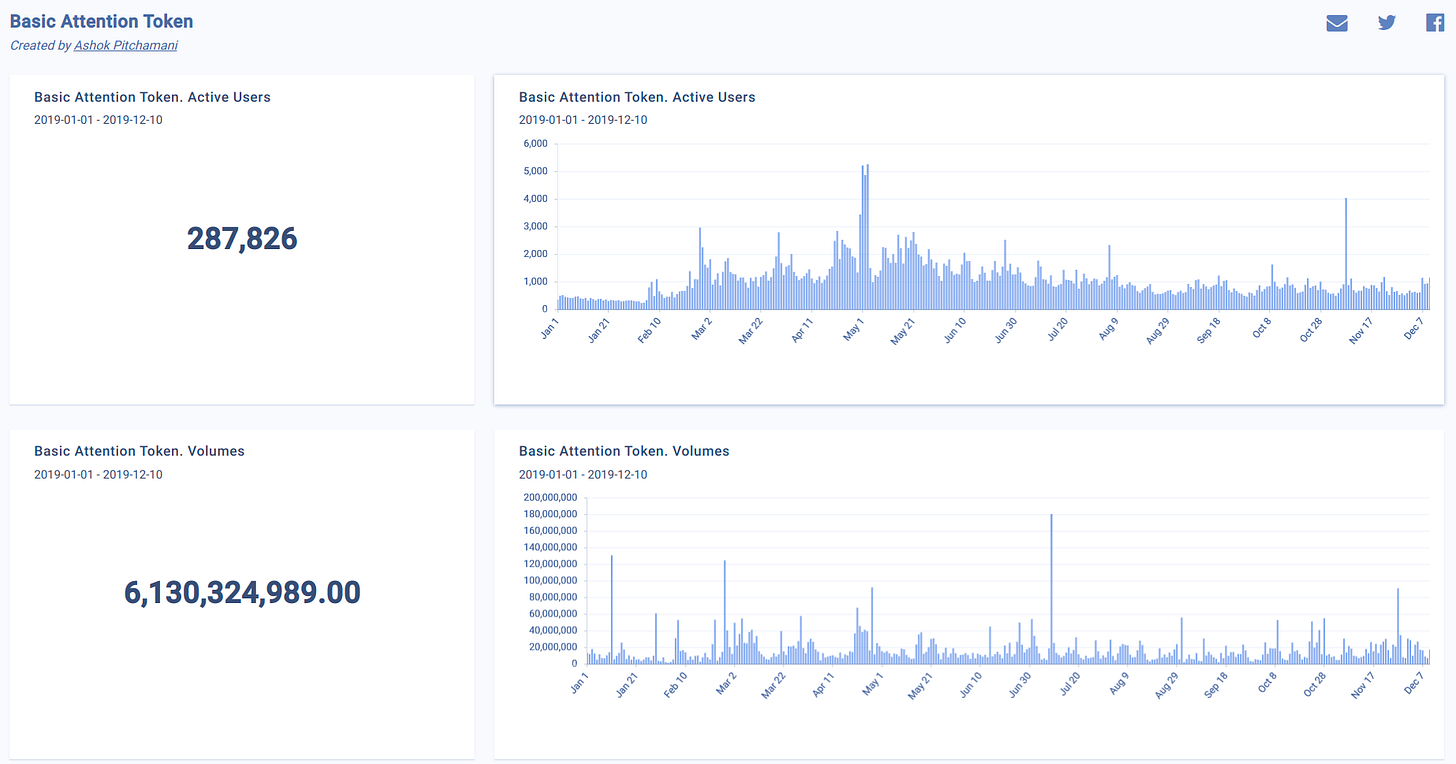 Our Thoughts
We are big fans of Brave and what they stand for and how they are a great example of building and enabling the adoption of web 3.0 technology.

With all the haggling around in the blockchain space about which blockchain is better and all the larger than life figureheads that dominate the industry, Brave with its BAT token is a bit of fresh air. They focus on the current issues facing web 2.0 like how mobile users are currently abused by existing browsers(up to 50% of the average user's mobile data is for ads and trackers) and how big centralized megacorps like Google and Facebook take 73% of all ad dollars and 99% of all growth from publishers and how Brave(along with BAT) solves this problem by providing them with a decentralized alternative that benefits all parties.

Basic Attention Token has a legit use case and a working product. With its fast-growing adoption and increased demand, it has the opportunity to create a brand new decentralized ecosystem for digital advertising.

The future does look interesting for the Brave browser and BAT with plans on implementing IPFS, releasing its own Brave Virtual Private Network (VPN), and the well-awaited release of Brave's Software Development Kit (SDK) for the developer community.
Links
BAT Website: https://basicattentiontoken.org/
BAT Blog: https://basicattentiontoken.org/blog/
About Chainbeat
Chainbeat aims to be the first cross-platform analytics platform for applications building the decentralized web 3.0. We believe that web 3.0 will be built across many different blockchain platforms and providing data insights will benefit everyone involved in these platforms with a new way of looking at things.
We provide advanced analytics features that help enable cross-platform benchmarking and reporting across blockchain platforms.

We provide real-time data insights and alerts that can help you with fast decision making to help grow your business.

We currently have integrations with Ethereum, RSK, PoA, and xDAI (in staging). We are working on adding Tron next.
To learn more, visit https://chainbeat.io
If you are working on new and interesting projects in the web 3.0 space and would like it to be covered in this newsletter, email us at {info at chainbeat dot io}