Chainbeat Newsletter: Buttercup Bucks
2/12/2020
Welcome to the newsletter from the Chainbeat team! The web 3.0 ecosystem is growing rapidly. Our goal with this newsletter is to provide insights and highlights on new and interesting projects that are building the decentralized future of tomorrow.

Yes... It's been a while since our last newsletter. We have been heads down working on revamping our product offering to provide new perspectives of looking at existing data along with brand new metrics and reports. We will be releasing these exciting changes in the upcoming weeks. Stay tuned!

We also expanded our network offerings with the launch of our integration with PoA and xDAI chains. If you are developing an application on POA or xDAI do check out our analytics offering.

Chainbeat Links: Chainbeat | Sign up | Newsletter Sign up | Chainbeat Blog
This week's featured web 3.0 project: Buttercup Bucks(BCB)
To coincide with our PoA and xDAI support on Chainbeat, today we are featuring a fun project from last year called Buttercup Bucks (BCB) launched on the xDAI chain. BCB's are digital tokens that launched at the Annual Splunk Conference(>10,000 attendees) last year. Splunk is the $18 billion public big data enterprise company that puts out this annual conference for all its customers and ecosystem partners.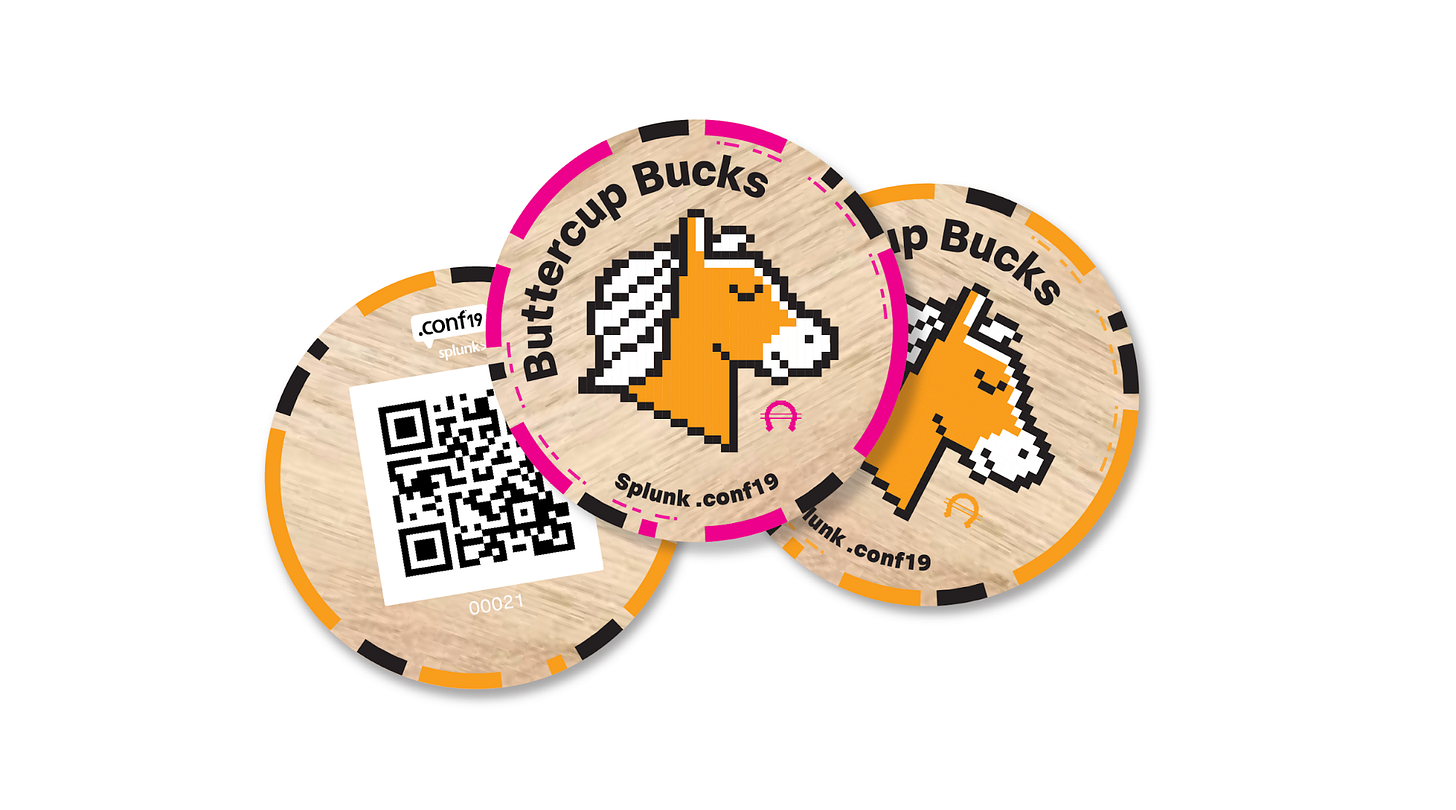 Here is how the BCB worked at the conference:
Every registered attendee started with preloaded tokens in their pony purse, a web wallet inspired by Austin Griffith's burner wallet. The BCB tokens were airdropped to 25,000 wooden poker chips before they were handed out. Users scanned the QR code with their phone and got hold of the value previously contained on the chip.
Throughout the event, Splunk used interesting ways for users to earn more tokens like giving product feedback or arriving early to the keynotes. Attendees had a chance to spend their tokens by acquiring standard conference swag or donating it to non-profits.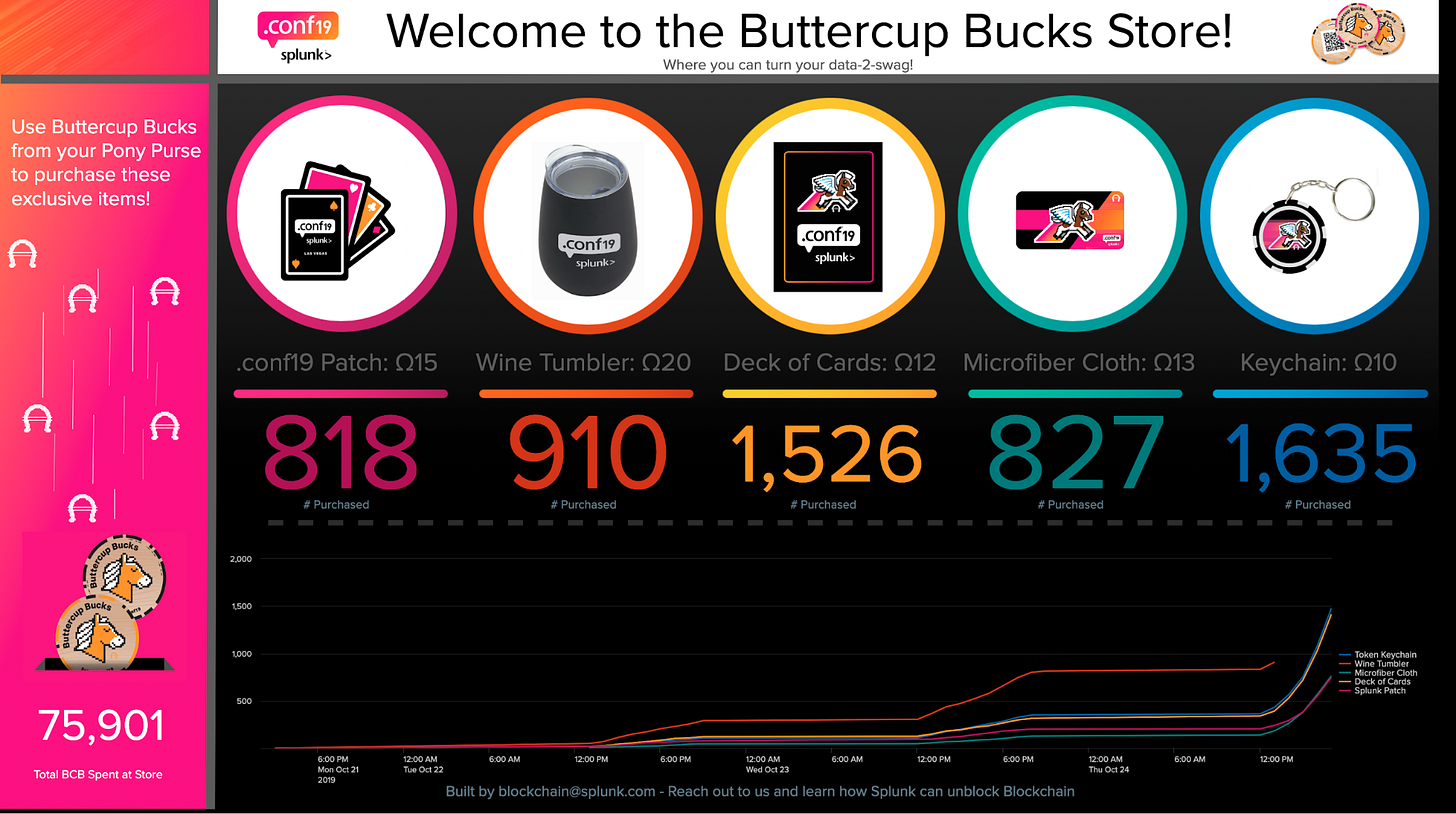 Data Insights
Data from Splunk at the end of the conference:
Over 10,000 attendees attended the conference

1,868 poker chips were scanned worth 79,080 BCB.

5,716 physical items were purchased in the store worth 75,812 BCB.

38,878 BCB were donated to charity.
xDAI uses a delegated Proof of Stake (DPOS) consensus mechanism which makes gas fees a lot less compared to other networks. Because of the increased efficiency of the xDAI blockchain network, the total cost was just $1.54 in gas fees for all transactions from the conference.

The token usage behavior is interesting as seen in this visualization from Chainbeat, showing the rush of the token spending on the last day(Oct 24) of the conference before it loses usage value:
A lot of the BCB usage reflects some of the mainstream crypto usage: lots of one-time users trying out the novelty and a few early adopters catching on to the promise and using it regularly. Here is Chainbeat's user activity chart within the conference time frame (Oct 21-24):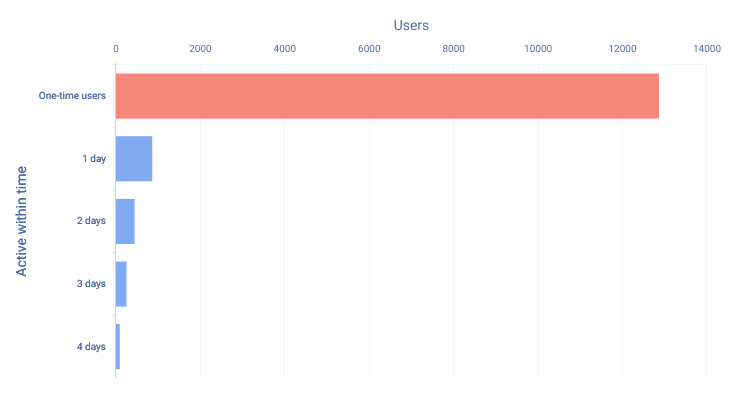 Our Thoughts
We think the BCB concept is a great way to introduce non-crypto people to the world of cryptocurrency. The "Pony Purse" removed the friction and the traditional usability issues facing traditional crypto wallets.

The flexibility and ease offered by crypto were also a big difference maker to traditional currency - especially for donating to charity. From this CoinDesk article - The single highest donation of $10,446 was awarded to the human-trafficking awareness group Global Emancipation Network. It was donated by Caroline McGee, a cyber engineer for IT company SAIC, who told CoinDesk she managed to raise these funds by collecting other attendees' unused BCB tokens. "It was a different mindset. People are hesitant to donate via their credit card especially at a cybersecurity or data science conference because of the potential risks. But because of it being a cryptocurrency, there was no question."

Splunk focuses on providing big data solutions mainly to Enterprise customers. As we all know, Enterprises often prefer to operate in their own walled gardens. With the Buttercup POC, Splunk showcased the power and security of public blockchains directly to its enterprise customers. This reinforces the value provided by blockchains and we hope in the future, Blockchains will become another piece of enterprise technology.
Links
Splunk: https://www.splunk.com/
Splunk Conference: https://conf.splunk.com/
Splunk blog: https://www.splunk.com/en_us/blog
About Chainbeat
Chainbeat aims to be the first cross-platform analytics platform for applications building the decentralized web 3.0. We believe that web 3.0 will be built across many different blockchain platforms and providing data insights will benefit everyone involved in these platforms with a new way of looking at things.
We provide advanced analytics features that help enable cross-platform benchmarking and reporting across blockchain platforms.

We provide real-time data insights and alerts that can help you with fast decision making to help grow your business.

We currently have integrations with Ethereum, RSK, PoA, and xDAI. We are working on adding Tron next.
To learn more, visit https://chainbeat.io
If you are working on new and interesting projects in the web 3.0 space and would like it to be covered in this newsletter, email us at {info at chainbeat dot io}