Chainbeat Newsletter: Gods Unchained
12/04/2019
Welcome to the newsletter from the team at Chainbeat! The web 3.0 ecosystem is growing rapidly. Our goal with this newsletter is to provide insights and highlights on new and interesting projects that are building the decentralized future of tomorrow.

We recently launched our integration with RSK. If you are developing an app on RSK, do check out our analytics for RSK.

Chainbeat Links: Chainbeat | Sign up | Newsletter Sign up | Chainbeat Blog
This week's featured web 3.0 project: Gods Unchained
Gods Unchained is a very popular card trading game that is built on the Ethereum blockchain. Each one of its cards is represented by a non-fungible ERC-721 token. This means that users truly own their cards and can trade them freely on the open market. Gods Unchained is from the team at Immutable, who recently raised $15M in a financing round led by Naspers and Galaxy Digital.

Here is a Venn diagram from the Gods Unchained team on their positioning in today's gaming landscape.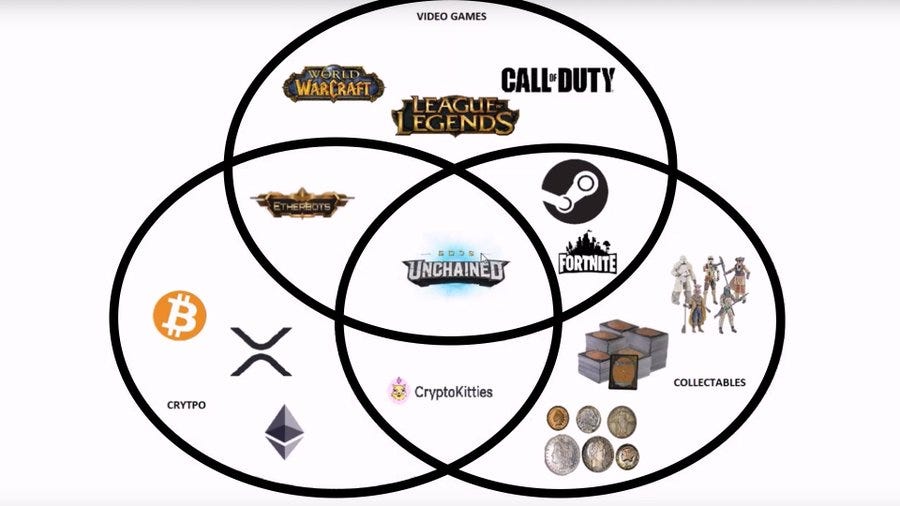 Here is an intro video to the game:
Cryptokitties gained mainstream popularity with its crypto-collectibles. Now Gods Unchained is taking it one step further with its crypto-collectible-gaming aspect.
Data Insights
A breakdown of the card distribution transactions so far: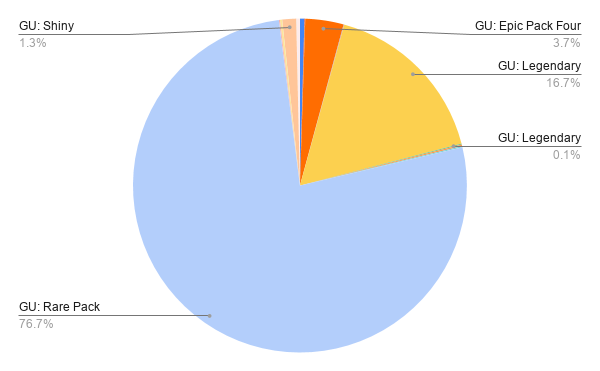 A timeline of card creation events called on contract: 0x6ebeaf8e8e946f0716e6533a6f2cefc83f60e8ab

The Gods Unchained cards have different levels of rarity: common, epic, legendary and mythic. Mythic cards are extremely rare. One mythic card called "Hyperion" was auctioned by the company for a cool final bid of 146.279 ETH.

The most common card purchases are what they call the "Rare Pack Four" making up to more than 3/4th of all card transactions

There are two separate transactions in the card purchase process - The first transaction that makes the purchase and assigns randomness. The second transaction redeems the cards. The above chart is data from the second transaction that depicts the card creation functionality.

As you can see from the above data, Oct 29th was the cutoff-date to purchase their exclusive first edition genesis cards. After this date only trading of these cards is possible.

Overall 361,469 card creation transactions happened this year. (Data from Chainbeat's Gods Unchained public dashboard)
Our Thoughts
ERC-20s have been the dominant type of token in the Ethereum ecosystem. But non-fungible tokens like ERC-721 are on the rise with the help of games like Gods Unchained that have a real use case for these tokens.

Blockchain-based games have a ton of potential. With a decentralized approach, they put the users in control of their game assets and with no centralized authority they cannot be revoked or censored. This is an area we anticipate lots of innovation and growth in the future.

It is also fascinating to see community reaction on how God's Unchained gained popularity for taking a stance after rival Hearthstone was involved with issues banning a player for supporting the Hong Kong protests.

The parent company Immutable has created something called the "Immutable Platform" that allows third-party developers to jump in and interact with their new digital asset. It will be interesting to see what comes out of this.
Links
Website: https://godsunchained.com/
Immutable Website: https://www.immutable.com/
Medium: https://medium.com/@immutable
About Chainbeat
Chainbeat aims to be the first cross-platform analytics platform for applications building the decentralized web 3.0. We believe that web 3.0 will be built across many different blockchain platforms and providing data insights will benefit everyone involved in these platforms with a new way of looking at things.
We provide advanced analytics features that help enable cross-platform benchmarking and reporting across blockchain platforms.

We provide real-time data insights and alerts that can help you with fast decision making to help grow your business.

We currently have integrations with Ethereum, RSK, PoA, and xDAI (in staging). We are working on adding Tron next.
To learn more, visit https://chainbeat.io
If you are working on new and interesting projects in the web 3.0 space and would like it to be covered in this newsletter, email us at {info at chainbeat dot io}