Chainbeat Newsletter : PoolTogether
11/12/2019
Welcome to the newsletter from the Chainbeat team! The web 3.0 ecosystem is growing rapidly. Our goal with this newsletter is to provide insights and highlights on new and interesting projects that are building the decentralized future of tomorrow. A note to start with - we are not getting paid to write about these projects, we are genuinely interested in them and the future that they are trying to build.

Links: Chainbeat | Sign up | Newsletter Sign up | Chainbeat Blog
This week's featured web 3.0 project: PoolTogether
PoolTogether is a no-loss, audited savings game powered by blockchain.

It's a novel idea that showcases the potential of Defi with an interesting implementation of a "lottery". At the heart of it is DAI, when you deposit DAI into the Pool you get tickets in exchange and each ticket gets a chance to win weekly prizes. The deposit to the Pool is like putting your money into a savings account except it's like a rewards-based savings account. When you join the pool the money used to purchase tickets starts earning interest along with all the other money in the pool. The interest is generated through Compound Finance. Every 7 days when a prize is awarded all the interest that has been earned since the last prize is given to the winner. The deposit and the prizes can be withdrawn from the pool anytime.

Here is a video from the PoolTogether team explaining the concept:
Data Insights
Here is a snapshot of a Chainbeat dashboard(public dashboard 1 & 2) for PoolTogether showing activity data until Oct 17 for the smart contract :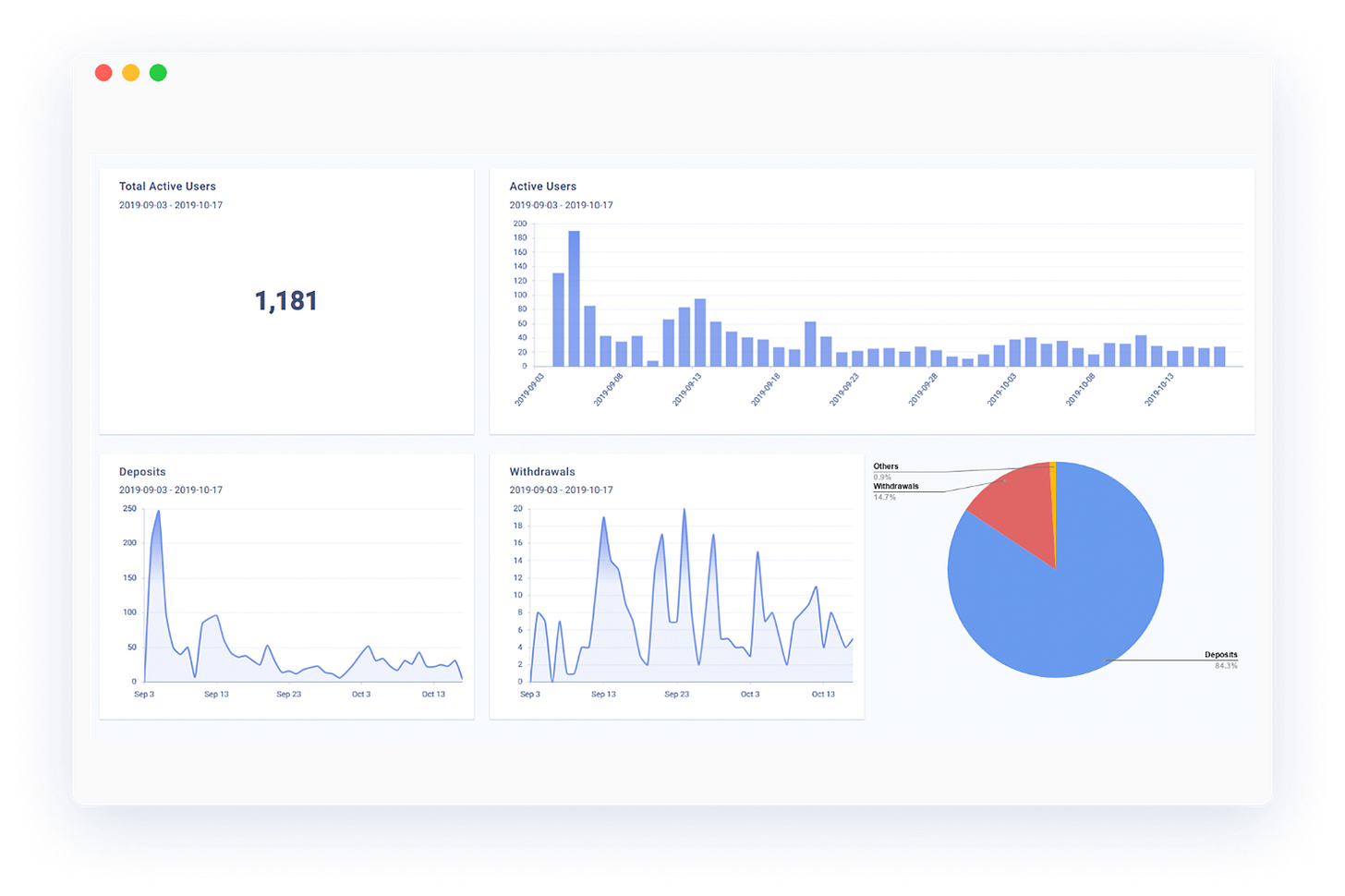 A few highlights:
The above data is a version2 smart contract of PoolTogether that launched in September

The total active users highlight all unique users (addresses) that have interacted with the smart contract in the time frame.

Withdrawals and Deposits are two functions in the smart contracts that get activated based on the corresponding activity in the pool from the application. Note, the vertical scale in the charts are different for both functions.

The Deposit to Withdrawal ratio could be compared to a similar activity to a traditional savings account, as users tend to keep the money in the bank for longer periods.
Our Thoughts
It's a neat use case of Defi providing a better, safer alternative to the existing lottery tickets market($80 billion industry)

Spencer Noon does a great take on how Prize Linked Savings (PLS) benefits users' financial health and increase their total savings compared to existing options. Here are the links to the tweetstorm and research on Prize Linked Savings.

From a conceptual level, there are no fees for participation, although if you are not holding any DAI then there are the associated transaction costs in exchanging to DAI.

It's still early stages with PoolTogether, with a few whales that are dominating the winnings(5 of first 9 winnings won by one user). Increasing the transparency on how the winners are selected is something that the PoolTogether team is actively working on.
Product Links
Website: https://pooltogether.us
Blog: https://medium.com/pooltogether
Learn More:
https://medium.com/@TrustlessState/funding-model-for-pooltogether-and-other-money-lockup-apps-86b928900efa
POV Crypto Podcast: https://povcryptopod.libsyn.com/92-tokenizing-pooltogether-with-leighton-cusack

About Chainbeat
Chainbeat aims to be the first cross-platform analytics platform for applications building the decentralized web 3.0. We believe that web 3.0 will be built across many different blockchain platforms and providing data insights will benefit everyone involved in these platforms with a new way of looking at things.
We currently have integrations with Ethereum, RSK, PoA, and xDAI (in staging). We are working on adding Tron next.

We provide advanced analytics features that help enable cross-platform benchmarking and reporting across platforms.

We provide real-time data insights and alerts that can help you with fast decision making to help grow your business.
To learn more, visit https://chainbeat.io

If you are working on new and interesting projects in the web 3.0 space and would like it to be covered in this newsletter, email us at {info at chainbeat dot io}