Chainbeat Newsletter: RIF
1/8/2020
Happy New Year! Welcome to the first newsletter of 2020 from Chainbeat! The web 3.0 ecosystem is growing rapidly. Our goal with this newsletter is to provide insights and highlights on new and interesting projects that are building the decentralized future of tomorrow.
Chainbeat Links: Chainbeat | Sign up | Newsletter Sign up | Chainbeat Blog
This week's featured web 3.0 project: RIF
We recently launched our integration with RSK, the first open-source smart contract platform powered by the Bitcoin network. One of the fascinating projects running on the RSK network is RIF. Today's newsletter features an interview that we did with Gabriel Kurman, co-founder of RSK & Chief Strategist for RIF.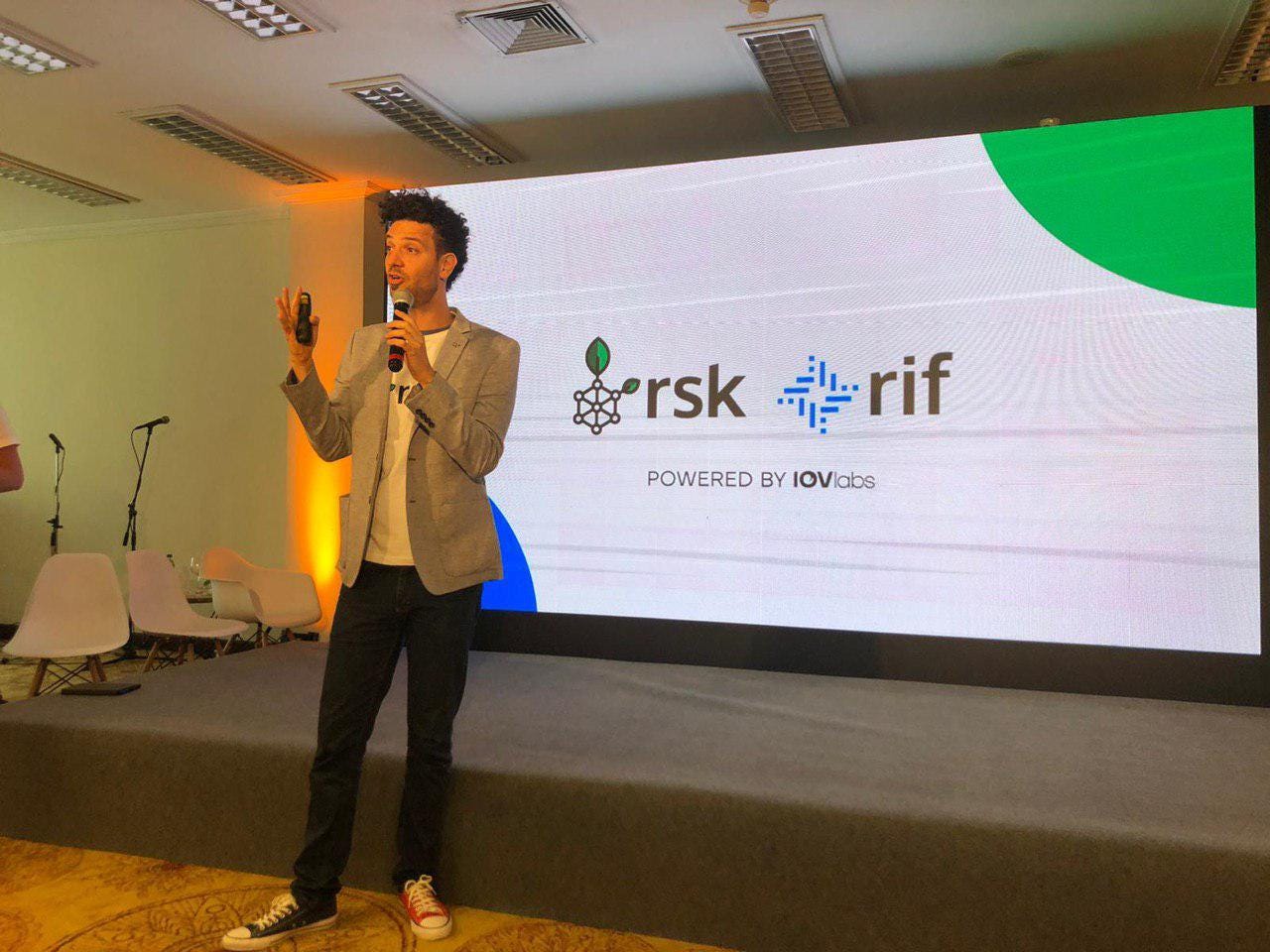 Ashok: Hi Gabriel! Nice to meet you. Thank you for taking the time to talk to us. Could you please introduce yourself, your background and how you got into blockchain?
GK: Hi Ashok! I am an economist from Argentina which sadly makes me an expert in inflation, devaluations and bank deposit confiscations…
I spent most of my career working in corporate finance and M&A until 2013 when I learned about Bitcoin for the first time at Labitconf 2013 and since then I never left the ecosystem.
I co-founded several Blockchain startups such as RSK/RIF and Koibanx along with several not for profit projects such as Blockchain4Humanity and La Bitcoineta.
Ashok: You are one of the cofounders of RSK, any backstory or inspiration that led you and your co-founders to start RSK?
GK: When you live in LATAM it is pretty clear that the current financial system is broken and needs to be changed in order to promote equality and equal opportunities for all.
This is what made the RSK co-founders realize that we couldn't decide between the security and immutability of the Bitcoin blockchain and the programmability of Solidity smart contracts (which at the time were only available on Ethereum).
In order to serve the millions of excluded and underserved from the financial system, we needed ultra-secure programmable money which could only be achieved by smart contracts on Bitcoin… that's why we created RSK.
Ashok: What is RIF? Can you explain your vision for RIF?
GK: The old internet is in crisis. All the freedom it created at the beginning has been transformed into a tool to control and spy users by Big Tech and governments.
Users converted into products with their personal data being hacked or sold to the highest bid. Sharing economies controlled by monopolistic companies and global networks divided by geopolitical interests, economic sanctions, and firewalls.
Now that Bitcoin has proven that a global, decentralized, open-sourced and public internet of value is possible, it is hard to believe that 20 years from now, we will continue to use a centralized, monopolistic and censored internet for our information.
The RSK Infrastructure Framework (RIF) aims to build on top of Bitcoin and RSK the remaining building blocks to create a fully decentralized internet.
RIF Payments, RIF Storage, RIF communications, RIF Gateways, RIF Directory, and RIF Marketplace are those building blocks that will allow the construction of decentralized peer-to-peer solutions protecting the users from corporate and government abuse.
All RIF services leverage the security and immutability of Bitcoin and RSK which will be key in the construction of truly decentralized sharing economies (DSE).
Ashok: Why should developers think about building their decentralized applications in RIF compared to the existing options? 
GK: One of the main goals of RIF is to simplify the life of developers. We are building our open source libraries as an abstract layer to allow developers to interact with multiple providers as easily as possible. 
For instance, RIF Storage created the decentralized economic incentives (on RIF Payments) so users can interact with Swarm and/or IPFS seamlessly. 
RIF Payments will allow interoperability between RIF Lumino and the Lightning network while our RIF Name Service (RNS) will also be integrated with ENS for Ethereum resolutions.
RIF Communications will also allow decentralized economic incentives on Libp2p to facilitate the development of decentralized chats while also allowing decentralized low-level communications between nodes (eg. Lumino nodes and even RSK nodes).
The RIF marketplace will allow users to consume and offer RIF services while also being available as a service for developers who want to create marketplaces and decentralized sharing economies secured by RSK and Bitcoin.
Ashok: What is the role of the RIF token? Do all applications need to use RIF token to build on RIF or can they use their own token?
GK: The RIF token can be used to consume all the RIF services which simplify significantly the interaction for a smart contract that needs to consume several of them. 
The RIF token can also be staked as an insurance of the quality of service by the premium providers.
Some of the initial uses for the RIF token will be: 
To register new RNS domains and to buy already registered domains

To purchase persistent availability on RIF Storage

To hire a watchtower service in case a RIF Lumino channel gets closed when the light client is offline. Premium watchtowers will also be able to ensure their services by staking RIF tokens as collateral

To reward the RIF communication nodes for decentralized exchange of messages

As part of RIF Gateways, users will be able to consume premium Notifier services, oracles, and escrow also with the RIF token.

The RIF marketplace will facilitate all these interactions and staking mechanisms also accepting RIF tokens for premium features and reporting.
On top of this, some RSK partners such as MoneyOnChain and Taringa are planning to use the RIF token as collateral for the development of stablecoins and reward programs.
Having said that, from a user standpoint all the RIF services will also be available in other crypto assets as well, which is a key element to ensure the interoperability of the RSK Infrastructure Framework with other crypto-economies. At the same time, the RIF token will also be portable to other crypto-economies to provide full interoperability and antifragility to the ecosystem as a whole.
Ashok: What can we build on RIF today what is coming up in the future?
GK: As of now you can use the RNS multi-blockchain service to register your alias domain (and subdomains) to simplify the interaction of non-technical users with blockchain technology.
You can also use the RIF token (and any other token on RSK) on the Lumino which allows state channels and thousands of transactions per second at extremely low cost.
RIF Storage is already available on the RSK testnet and the deployment with full economic incentives will be available on the RSK mainnet during 2020.
The initial POCs for RIF Communications and Gateways are also available and their full production versions will be ready during 2020 along with the RIF marketplace.
Ashok: Last question, you have been in the blockchain space for a while what are your thoughts on the current state of the ecosystem (maximalists, dominating figureheads, infighting, etc.) and the future of the industry?
GK: Bitcoin and blockchain technology will reshape the financial system and the Internet as we knew them. There will be multiple governments and tech giants affected by this paradigm change so extreme positions and attacks should not surprise us.
In my opinion, the most important thing to keep in mind is the potential positive impact that this technology can have on our global society. We are in a unique moment in time with a deep sense of disappointment in globalization, lack of political leadership and unsustainable inequalities. The social revolution behind blockchain technology is what all us, working in the ecosystem, should protect and promote.
The real revolution is not about having a decentralized ledger, it is about using that decentralization as a censorship-resistant tool to build a more inclusive and fair society for all. This is the main goal for all of us in the RIF team, and this is why we build our platforms on RSK secured by Bitcoin infrastructure.
Ashok: Thank you so much for taking the time and giving us an opportunity to talk to you.
Thanks for reading, and see you again at the next edition of the Chainbeat Newsletter!